Respite Residential and Rehabilitation Centre
Mission of the Respite Residential and Rehabilitation Centre

The mission of the Respite Residential and Rehabilitation Centre is to provide short-term residence to seniors and handicapped people normally taken care of in their natural environment – at home. We want to approach users with individual care in social and rehabilitation spheres. We make every effort to mobilize their abilities and skills by means of miscellaneous activities. We try to create an environment and living conditions, which would maximally resemble an inviting household ambience. We try to create a safe, pleasant environment for service users. The services are provided in view of maximal support of the user's self-sufficiency and further development with regard to his/her individuality and specific needs. The respite service was also designed to help attendants or families normally taking care of seniors, to enable them to "recharge batteries", take some rest and save time to attend to their personal matters.

Fundamental Objectives of ŽIVOT 90 Respite Residential and Rehabilitation Centre

Our goal is to approach service users in an individual yet comprehensive manner. We want to provide care, assistance and rehabilitation to users released from hospital or facing a sudden critical situation that prevents them from staying at home. By provision of the services we aim to take off part of the burden from the caring families to give them time to rest and recuperate for the sake of caring for their closest relatives. We strive to provide quality rehabilitation care and to organize activation programs to suit individual interests and requirements. Our aim is to ensure through rehabilitation and activation programs that users leave us in good mental and physical shape in order to become suitably self-sufficient and return to their homes.


The Centre is divided into three sections:

• Out-patient physiotherapy

• Respite Residential and Rehabilitation Centre

• Rental of Compensation Aids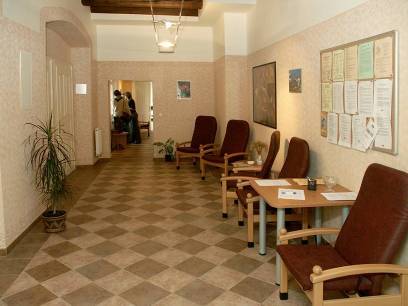 The Respite Residential and Rehabilitation Centre is primarily intended for seniors whose functional state requires nursing and supervision. We enable caring families to go on holiday and to undergo hospital treatment; their long-term commitments to the senior being temporarily assumed by the respite centre team. Seniors living alone can avail themselves of supportive residential stays in the event of convalescence or calamity situations. The duration of stay extends from one day to three months.
The Centre offers the comfort of secure contact and supervision, helps with routine activities and prevents loneliness. Residential clients can avail themselves of an offer of activation programs, including attendance of theatre performances, memory training sessions and physiotherapeutic services to achieve intensive all-around rehabilitation. They can test and borrow compensation aids. An experienced staff will ensure professional care.